We are happy to provide a full range of dentistry in Draper, Utah so that you and your family can reach and maintain ideal dental health. Some of our dental services include cosmetic dentistry, restorative dentistry, orthodontics, and oral surgery. Feel free to view the photos of our office below to learn a little more about us. We invite you to call Merit Dental at 801-877-3664 today for more information.
call the office
Schedule an Appointment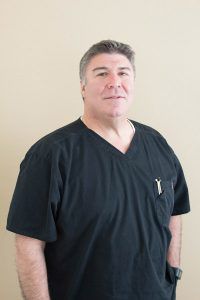 Dennis A. DeLoach, D.D.S.
Dr. Dennis A. DeLoach attended Utah State University on a football scholarship from 1977 to 1981. He was an all-conference linebacker and voted team captain in 1981. He studied biology and chemistry while at Utah State. He also met the love of his life, Camille Meyer from Hooper, Utah, while attending college. She was a cheerleader. They were married in 1982. He attended dental school at the University of Oklahoma College of Dentistry. Dr. DeLoach and Camille have six wonderful children and several grandchildren.
Dr. DeLoach has completed well over 1,000 hours of advanced training in implants, orthodontics, cosmetic dentistry, wisdom tooth surgery, root canals, sedation dentistry and many other phases of dentistry. Dr. DeLoach takes pride in performing a wide variety of dental procedures for his patients.
Dr. DeLoach is a second degree blackbelt in Kenpo karate, and he enjoys bird hunting, fly fishing, salmon fishing in Alaska and spending time with his grandkids. He has coached high school football in the state of Utah for over 20 years. His wife, Camille, is a nine-time World Martial Arts Champion and is a former member of the US Taekwondo National Team.
Dr. DeLoach loves his job and enjoys going to work every day. He has been in private practice since 1987, serving his patients in Utah.